New Student Orientation Presentation Information - Fall 2020
For more information on New Student Orientation, visit orientation.wvu.edu.
For the parents, families, and guests who attended our presentations at Orientation, thank you for coming! Here you can find the helpful information, tips and tricks, and websites shared during the presentation.
Follow us on Facebook, Twitter, and Instagram. We post scholarship opportunities, money tips, and important reminders that can help you and your student stay on track for financial aid, scholarships, billing, and more!
Also, see our special Parents page that addresses financial aid topics that parents and families often have questions on.
---
What Is the Mountaineer Hub?
Your connection to:
Student accounts and billing
Financial aid and scholarships
Federal Work-Study employment
Registrar and academic records
It is critical that students pay attention to notices sent from the Mountaineer Hub because they could be regarding their financial aid or a balance due.
---
How Will You Hear from Us?
Emails regarding the above topics are sent from the WVU Mountaineer Hub to students' WVU MIX email
Students can set their MIX emails to forward to personal emails or set it up on their mobile devices. This will make it easier to stay informed of important information, deadlines and additional requirements.
Students should check their MIX email regularly
Students can view up-to-date information in STAR and should check STAR monthly via their WVU Portal
---
Family Educational Rights and Privacy Act of 1974 (FERPA)
Federal regulation that protects the privacy of education records, such as:

Billing
Financial aid
Class schedule
Grades

We cannot release protected information to anyone other than the student once the student moves into on-campus housing OR attends their first day of class at the University (whichever comes first) unless the student grants proxy access to their account information
Visit the WVU FERPA website for more information.
---
The WVU Parent and Guest Portal
Since they cannot share their student log-in information, students can give proxy access to their accounts
Students can find detailed instructions on the Parent and Guest Portal website
This can cover access online, in person and over the phone
Parents should be prepared to provide the passphrase established by the student every time they contact the Hub
---
The Guest Portal: Logging In
The Parent and Guest Portal website is easy to navigate and offers detailed instructions and tutorials for students on how to give parents or guests access to their information (which can be online, in person or over the phone).
Go to the Parent and Guest Portal website
Click on "Log In"
Log in with the email address and password created when the student set up proxy access
---
The Guest Portal: Student Information
In the Parent and Guest Portal, tabs at the top show your profile information and students who have granted you access
Parents/guests can click on a student to see their menu of information
Parents/guests will only see things the student has given them access to view
Students can edit the standard expiration date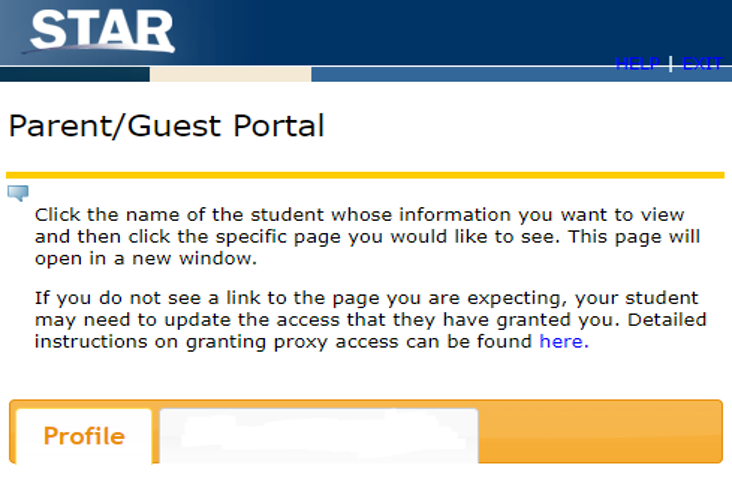 ---
The Guest Portal: Menu
Potential screen options parents/guests may see in the portal menu if given access includes:
Academic deposit information
Electronic bill by term/make payment
Cost of attendance for financial aid
Financial aid holds
Financial aid requirements
Financial aid status
Financial aid award package, messages, payment schedule and history
Financial aid academic progress
Financial aid loan application history
View schedule by day and time
View schedule with course details
View mid-term grades
View final grades
View holds that may prohibit registration in courses
View addresses and phone numbers on file
View student and parent email addresses
View student's emergency contacts
---
Cost & Resource Planner
Personalized planners emailed to MIX and personal email accounts on file for students with a Free Application for Federal Student Aid (FAFSA) submitted or financial aid offered
This planner helps you estimate direct costs, financial aid and potential out-of-pocket expenses for fall and spring
Planners only indicate the direct costs that will be billed
If you did not receive one, or you wish to review how changes to your major, residence hall or dining plan may impact your bill, please visit our Cost & Resource Planner page
---
Fall Bills
Online

Students can view this information in their WVU Portal.

Parents and guests with proxy access can view the student's billing information by logging into the Parent and Guest Portal website.

Students and parents/guests with proxy access can view their charges online for fall in early July

The charges listed on the top of the Electronic Bill By Term screen in the student's STAR account include University Tuition, University Fees, College Tuition, On-campus housing, meal plan, as well as any credits from the Tuition Deposit and Housing Deposit. The financial aid listed varies from student to student but this list can include all grants and loans that are ready to disburse to the student's account. The value for "Current Due net of Authorized Financial Aid and Memos" is the balance remaining on the student's account after all authorized aid has paid towards their initial balance.

eBill

Email with billing statement attached
Sent to student MIX email for fall in early July
Only sent to students with a balance due for the semester
Sent monthly to students who owe a balance
Payment due August 1
The charges listed on the eBill include University Tuition, University Fees, College Tuition, On-campus housing and meal plan. Amounts in the Credits column include any Tuition Deposit, Housing Deposit and financial aid that is pending. Please note that the financial aid listed in red with an asterisk has unsatisfied requirements associated with them. Students can refer to their STAR account for more information. The Summary section on the eBill includes total charges, any balance remaining from a previous term, total credits and the total balance due.
---
Other Funding Options: Scholarships and College Savings Plans
Scholarships

Departmental scholarships based on program of study
Scholarships from your local areas

High school counselors
Businesses and alumni associations
Libraries and churches
Other nonprofit organizations

Scholarship search engines
Can only be credited to the student's bill once scholarship payment is received

College Savings Plan (529, Prepaid College Plan)

Contact your plan manager for instructions on how to send funds
Can only be credited to the student's bill once payment is received
---
Other Funding Options: Part-Time Student Jobs
Part-time Student Jobs

Working 1 to 20 hours/week shown to improve time management and GPA
Helps with indirect costs like books, supplies, and transportation (does not apply directly as a payment to the student's bill)
Some students are offered Federal Work-Study based on financial need from their FAFSA, but students do not need to have work-study to apply for part-time jobs on or off campus
Students search and apply for jobs via Handshake
Students will receive a paycheck that is intended to help with personal expenses incurred through each semester
---
Other Funding Options: Third-Party Sponsors and Veterans
Third-Party Sponsors

Vocational rehabilitation, military, employers, etc.
Please contact your third-party sponsor for more information

Veterans

Information on benefit types and required documentation can be viewed by selecting "Get started with the GI Bill"
Start your certification process online by selecting "VA Benefits Intake/Agreement form" on the home page
---
Other Funding Options: Monthly Payment Plan
WVU offers a monthly payment plan to help students spread all or a portion of their institutional charges over several months.
Break semester bills into as many as six smaller payments (if signed up by May 31 for fall or November 30 for spring)
Sign up in June to utilize the five-month option for fall (use an estimated balance due and update with the actual amount when bills are available)
Signing up later means fewer months to pay and larger payments
Can help reduce borrowing through loans
A $35 enrollment fee plus the first payment are due when you sign up
It's all online! You can enroll, manage your account and make payments 24/7. To learn more, visit our Tuition Payment Plan website.
The monthly payment plan is also a great tool to minimize borrowing when possible. For example, perhaps you can't do the plan for your full balance due and intend to pursue credit-based loans to cover your bill. However, you know you can afford to pay $100 a month. You can set up the monthly payment plan for $100 a month and pursue the credit-based loan for the rest of your balance due. This could save you up to $4,800 in loan debt over four years - not including interest! Please note if you are taking a credit-based loan out to receive a refund for books or living expenses, that loan will go toward your balance due first before disbursing a refund (even if you have a monthly payment plan set up). Also, be cognizant of whether or not your credit-based loan starts repayment when determining how much you can afford in a payment plan for the month.
Students can estimate their plan using the Plan for Your Cost Your Way planner, then adjust when the actual bill becomes available if necessary. It's better not to wait for the semester bill and to sign up as early as possible to spread payments out over as many months as possible.
---
Other Funding Options: Direct Payments
Online with a check using the routing and bank account numbers for your checking account (fastest and easiest method)
Online or in person with a debit/credit card (2.25% convenience fee)
Check, money order or certified bank check paid to the order of WVU or West Virginia University
More on payment options and instructions for paying online can be found on the Billing website.
---
Other Funding Options: Credit-Based Loans
There are credit-based loan options from the federal government and private lenders. Credit-based loans require an application and credit approval. However, there are differences between federal and private loans such as the borrower, the lender, interest rates, fees and terms. We have tools to help you determine what works best for you!
Private Loans

The interest varies by lender
The borrower could be the student or parent, depending on the lender
The student usually needs a cosigner
Visit our Private Loans page for more information, including tips and search resources to help you compare private lenders

Parent PLUS Loans
---
Applying for the Parent PLUS Loan
To apply for the Parent PLUS Loan, a parent must:
Go to studentaid.ed.gov
Log in with their Federal Student Aid ID (FSA ID) (not the student's FSA ID)
Choose the "I'm a Parent" option under MY CHECKLISTS
In the menu, choose "Apply for a Parent PLUS Loan"
Scroll down to "Direct PLUS Loan Application for Parents" and click the START button
Please remember to check to make sure the loan is sent to West Virginia University (not WV State, WVU Hospitals or WVU Parkersburg).
Top-four tips for the 2020-2021 PLUS Loan application:
Select the 2020-2021 award year on the application
Carefully read the options about enrolled in school and post-enrollment deferment
Make sure the loan is sent to West Virginia University (School Code/Branch G03827)
Choose the right loan period (if applying for fall and spring, choose August 2020 through May 2021)
---
Additional PLUS Loan Requirements
The parent borrower must complete a Loan Agreement (Master Promissory Note) by logging into studentaid.ed.gov
Under MY CHECKLISTS, select "Complete MPN for Parent PLUS Loan"
The Department of Education will email the parent borrower and provide instructions if they also need to "Complete PLUS Credit Counseling"
If you have an endorser for the loan, they must create and log in with their Federal Student Aid ID (FSA ID) to "Endorse a PLUS Loan" (under the "Apply for Aid" menu at studentaid.gov
---
Financial Aid Refunds
If a student's financial aid and payments are more than their direct costs (institutional charges) for the semester, they will be refunded the difference. Financial aid pays toward the bill approximately 10 days before to the start of the semester (for fall and spring) as long as all aid requirements are met such as enrollment, loan requirements, etc.
Students can sign up for direct deposit at wvu.afford.com now to receive their refund within 4 to 5 business days of aid disbursement
Direct deposit refunds are usually received during the first week of classes
If not signed up for direct deposit, a paper check is mailed
Students are responsible for charges incurred after a refund has been issued (replacement fees for student IDs, additional tuition charges from registering for more classes, adding a meal plan, etc.)
More information is available on the Refunds website.
---
Keep Your Aid!
Students must meet Satisfactory Academic Progress standards for financial aid eligibility to keep federal (and sometimes state) financial aid for future academic years.
To meet Satisfactory Academic Progress standards, students must:
Have a minimum overall GPA of 2.0 by the end of each spring semester
Earn at least 67% of all hours they attempt by the end of each spring

Withdrawing from classes after the add/drop period, receiving "incomplete" status, and failing classes have a negative impact on this percentage

Complete their program of study within 150% of the hours required for the program (example: complete a program that requires 120 hours within 180 attempted hours)
See the Satisfactory Academic Progress page for more information
In addition to Satisfactory Academic Progress, some types of aid have their own overall GPA and earned hour requirements.
Examples:
PROMISE and Institutional Scholarships

Earn 30 credit hours in fall, spring and summer (excluding classes taken in high school)
PROMISE: By end of summer, must have an overall GPA of at least 2.75 after first year and a 3.0 in subsequent years
Institutional: By end of summer, must have an overall GPA of at least 2.75 (applies to scholarships listed on our Renewal Requirements page)

WV Higher Education Grant
---
FAQs
How do I buy textbooks?
My family's income has reduced significantly since our 2018 taxes. What do I do?
Do I have to apply for financial aid every year?
How do I submit outside scholarships and 529 college savings plan payments to WVU?
What is the Mountaineer Hub Peer Educator Program?
---
First-Time Loan Borrowers
First-time student loan borrowers (for subsidized and unsubsidized loans) must complete TWO requirements:
---
Timeline: NOW!
Use the "Cost & Resource" planner to estimate out-of-pocket costs for fall and spring
Sign up for the five-month option of the Tuition Payment Plan
Parents of dependent undergraduates may apply for a Parent PLUS Loan at studentaid.gov
First-time student borrowers of federal loans complete their Loan Agreement and Entrance Counseling at studentaid.gov
June 1: Student health insurance waiver is available at Student Health Insurance website
June 29:Last day to select a meal plan on the Dining Services website before it defaults
---
Timeline: July
Sign up for direct deposit of refunds
On or around July 4:

Fall charges available online
Fall eBill sent to MIX email for students who owe a balance
---
Timeline: August
August 1:

July eBills due (less displayed aid)
Student health insurance waiver deadline

August 2: Late fees assessed on balances of $200 or more (for student who received a July eBill)
August 5: Last day to reserve books with financial aid through the WVU Bookstore Programs
August 9: Financial aid pays toward fall bill
August 19: First day of classes

Refunds are typically available to students signed up for direct deposit

August 25: Last day to add/drop classes for the fall semester
August 28: Last day students who utilized the Bookstore Program can pick up their reserved books
---
Contact Information and Appointment Calls
Appointment Calls
To schedule an appointment call, visit the SignUpGenius website for New Student Orientation.
Contact Information
Phone: 304-293-1988
Fax: 304-293-4890
Mailing: P.O. Box 6004, Morgantown, WV 26506
Location: Evansdale Crossing, 2nd Floor, 62 Morrill Way, Morgantown, WV